Know Your Locality Religious Places
Jain Mandir – East Anand Bagh
 Lalwani Nagar, East Anandbagh, Opposite to Banda Cheruvu, Malkajgiri.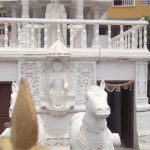 All the followers of jainism in India belong to the sramana tradition. Although their population is large in numbers in the western and northern parts of India hyderabad too has a sizable population of Jain community. Traditionally they belong to the entrepreneurial class and as per some estimates they are a highly literate community. Kachiguda, Ramkot, and Sultan Bazar are the noted places in hyderabad which have some of the oldest Jain temples and associations started by the Jain community as these localities have maximum number of families belonging to this community and who are residing for the last many decades in hyderabad.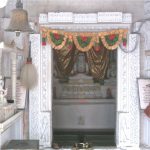 In Malkajgiri zone keeping in view the religious fervor of the community Sri. DharmiChand, took the initiative of constructing this temple in the year 2000 which is in a chariot shaped white structure located in picturesque location in East Anandbagh facing the Banda cheruvu lake. According to the founder member the unique feature attached with this place of worship is this is the first and only jain temple in this zone. It took more than two long years for its completion and the temple was open to public darshan on 26th January 2000. Gradually over the years the temple started a ghoshala, and a function hall the revenue generated from the temple offerings and the function hall are used for developing and maintaining the temple. The temple is open from 6 AM in the morning and upto 9pm in the evenings.
During the months from July-November every year the temple committee organizes special discourses for the benefit of people for which a eminent Guru Maharaj is invited whose preachings are followed by scores of followers in this zone. Overall a blissful experience is what one can attain upon a visit to this temple.