Jama Masjid – Kamalanagar DAE Colony
                                               AHLE SUNNATUL JAMAAT,
DAE Colony, Kamalanagar, Near Kapra Municiplity, ECIL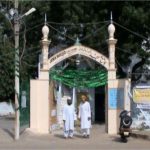 This place of worship, has a unique distinction as the devotees who were working in industries located in and around the mosque have been instrumental in maintaining and developing it for the last five decades
When ECIL&DAE brought a part of their offices to what is now popularly known as ECIL from Sanathnagar in the year 1967-68, "The need for a proper place of worship was felt by our Muslim brethren" says President S.S Hussaini who is associated with the mosque for a significant period. All the Muslims working in industries in and around ECIL and residents of D.A.E Colony, Khushaiguda, Nagarjuna Nagar and Chatripuram come to offer their prayers regularly.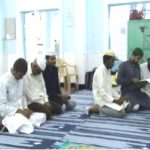 DAE earmarked this area exclusively to facilitate our prayers and fenced it using chain-link mesh in the year 1969. Initially a eleven member committee was formed with Non-political affiliations to oversee the development activities of the mosque which was initially started in a shed. Even to this day the management of this sacred place is being done with proper elected body , comprising of present President Syed Shujatullah Hussain, General Secretary MA Rafeeq and Vice President Salim Ghouse along with other committee members for able support and it was registered as Muslim Welfare Society
Although there are no major donors for the development of the mosque "All the employees of DAE, NFC, ECIL and the residents of the surrounding area, who come here to worship are the major contributors" said a committee member with Jama masjid. It is no exaggeration what was once a small shed like structure on an area roughly about 800 sq yds has been developed into a triple storied building over the years and today this place of worship can accommodate 1800-2000 devotees simultaneously and the entire credit goes to the community members who ensured that all the amenities were mobilized over the years. Imam Alam Pasha has been taking care of this holy place for the last fifteen years. Mohd. Ghouse the vice president said, "Parking facility and water was a problem earlier and the municipal authorities provided an unused piece of land besides the mosque for this purpose along with water connection". With the permission of the DAE, we have also got the facility to organize Idgah in the month of Ramzan and Bakrid, twice a year. Let us pray to Allah and his blessings be with the future generations who shall continue to build and protect the legacy of this holy place.