Kailasagiri Mallikarjuna Swami Devasthanam – H.B.Colony
Sri Rasthu!         Shubamasthu!   Avignamasthu!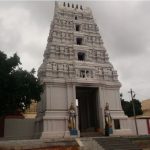 Kailasagiri is a prominent temple located on a hill which is adjacent to Nuclear Fuel Complex and one interesting fact is that there are many hills in that locality hence the place from olden times was popularly known as "Girula Haram" which means necklace of Hills. Anybody paying a visit to this temple can experience the divine, mystical bliss and especially during Mahasivaratri devotees in large numbers turn up to offer special prayers to the lord.
Nearly about three decades back Late Sri Setham Raju Subbarao who along with his contemporaries use to trek these hills in their leisure time got a divine idea to construct a shivalayam on the hill so that the people living in and around and their future generations will be blessed. Initially Sri Kancharla Gopala Reddy along with some Lord Ayyappa devotees installed a Ayyappa Swamy Photograph and a idol of Lord Vigneshwara and named this place as Ayyappa Konda. Subsequently over a period of time devotees developed faith that upon the arrival of his son the presence of Lord shiva was felt and both the founder members visited a village in West Godavari and brought two shiva lingams and on a auspicious day did the linga prathishta from then special prayers to Lord shiva along with other gods the place was popularly named as Kailasagiri. Some elders belonging to the Vyshya community overseeing the day to day activities of the temple were instrumental in installing a idol of Goddess Sri Kanyaka Parameswari in the temple premises gradually as times passed today one can find various temples in this location.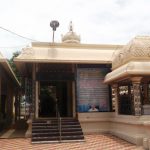 Dieties In Kailasagiri
In the Kailasagiri Temple premises devotees can have darshan of various gods whose temples in which well learned priests perform vishistha pooja toLord Vigneswara, Lord Mallikarjuna Sri. Brahmaramba, Sri Kanyaka Parameswari, Sri Subramanyeswara swamy, Sri. Ayyapaswamy, Sri Naga Devatha, Sri Anjaneya Swamy.