Thermocol projects – Buildings, monuments, vehicles etc.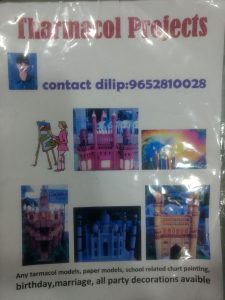 Dilip Rao was born and brought up in Kolkata, but has been working in Hyderabad for the past eleven years. In his spare time, he builds thermocol/ paper projects. He has build various monument replicas along with items such as aeroplanes and railway engines.
Dilip is quite popular among school and college students who utilise his services for any projects or presentations that they need to make. He requires anywhere between two days to a week to finish a project.
Dilip can be contacted at The Hobbies Store, or on his personal phone number at +91 8297122355 for any requirement or enquiry.