Sri Venkateswara Devalayam Eshwaripuri
Sri Padmavathi Sametha Sri Sri Sri Venkateshwara Swamy Devasthanam
Sri Valli deva Sametha Sri Sri Sri Subramanyeswara Swamy Devalayam
Eshwaripuri Colony
Venkata Ramana Sankata Harana !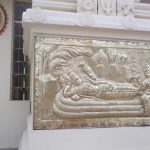 The word "Venkata" Means destroyer of sins deriving from sanskrit words "Vem" and "Iswara" means the Lord who can save the humanity from all their sins. The most sacred god considered to be avatar of Vishnumurthy who is the saviour of mankind in the Kaliyuga. Lord venkateshwara and goddess padmavathi are worshipped in Vaishnava sampradayam in most of the temples and one such place is in a serene location is Eswaripuri colony just adjacent to the Kapra lake a spaciously built temple in 3500 yards initiated by few devotees who also happen to be the colony members of Eswaripuri in the year 1995 today the temple has a full fledged committee who developed the temple with the donations from various devotees from time to time. Initially the temple location was on a low lying area as adjacent to the temple is kapra Lake and whenever there was heavy downpour water used to gush into the temple which posed a threat to its mere existence. As they say god always throws slight impediments to his devotees and in turn shows them the way to come out of those obstacles successfully.
The temple committee mobilized resources and filled tonnes of sand in the temple premises to ensure that it is in a much elevated position compared to the adjacent lake. According to Mr. P.V. Rao a pharma consultant who is the general secretary in the temple Trust " Initially we faced lot of crunch as far as resources to develop the temple except day to day rituals but by the grace of lord who can bestow his worshipers with miracles the temple has witnessed umpteen developments in the last two decades whatever we plan it never fails that's the power in this temple" he added that apart from Venkateshwara swamy and Sri Padmavathi today we also have Valli Sena Sametha Subramanya swamy Alayam and we are in the process of completing a Shiva Temple. A traquil and spiritual atmosphere welcomes all the devotees in the temple as a separate Yagashala and gaushala and a Kalyanamandapam makes this temple a complete pilgrim centre. According to the management committee they are working on modalities to start a Gurukula veda patashala so that vedic hyms, slokas and mantras reverberate continually in the temple premises.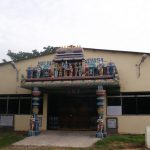 Special Pujas: Well learned priests perform daily rituals by decorating the deities with absolute sanctity on a daily basis, besides this special puja's are performed during Brahmotsavam, Sri Rama Navami, Karthika Masam, and other auspicious days in Telugu Calender. A must visit temple where one can attain peace the moment you step into the temple.