Sri Sri Sri Sharada Chandra MouliShwaralayam
  Geetha Bhavan, Near GHMC Geetha nagar Malkajgiri-47
Namasthe Asthu Bhagawan Vishweswaraya Mahadevaya Thrayambakaya Thripuranthakaya Thrikagnikalaya Kalagni Rudraya Nilakantaya Mruthyunjayaya Sarveshwaraya Sadasivaiah Srimanmahadevaya Namah!!!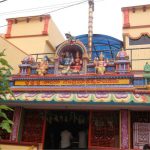 Sri Sri Sri Sharada Chandramouliswaralayam, Geethabhavan is one of the prominent places of worship in malkajgiri located in geethanagar near GHMC office the temple has a rich history and has developed rapidly kudos to the untiring efforts and passion of the founder members who mobilized resources from voluntary donors and today it is almost a kshetram as through out the year the temple has hectic schedule of vishista puja's marking all important days of telugu calender.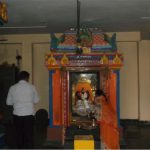 Lord Shiva and Sharada Matha are the principle deities along with Anjaneya Swamy, Navagrahas, Lalitha Ammawaru who are worshiped by the people in the temple along with Ayyappa swamy.
The temple premises and the structure has been donated by Dundoo family in the post independent period for a philanthropic cause. Sri Malladi Vittala Sarma, a retired sanskrit pundit, Sri Gowravajula Subramanyam a retired Chairman of a leading Cooperative Bank and Sri kanchibhotla Hanumantha Ramiah a retired employee from P&T along with some colony welfare association members took up the initiative to mobilize resources and in 2008 the vigraha prathistha of Sri Sharada chandramouliswaralayam took place. All the three founder members can recite the sacred Rudram namakam and chamakam extempore on par with the archakulu in the temple. Its a must visit temple for all worshipers of lord shiva and ammavaru. Lalitha sahastranamam is chanted by women on every friday.
According to Sri Alladi Ranga Vijay Kumar a Trustee in the temple every year during december and January when Mandala Puja of Swami Ayyappa, is organized scores of people join the temple for bhajans, seva's and receive the sacred Erumudi from their guruswamy before leaving to Sabarimala. During this period on a daily basis Nithya Anna Dana seva is an activity which is taking place for more than 30 years.