Know Your Locality Religious Places
Sri Venkateswara Alayam, Dammaiguda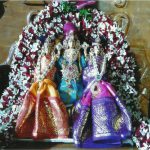 Temple is located in the opposite lane to  Ayyappa Colony bus stop, and is a very important landmark for the residents of Hanuman Nagar colony, Dammaiguda The temple popularly called as Sri Venkateswara Alayam has just concluded its 6th anniversary celebrations on 15th May 2016 with grand fare. Tucked in the Hanuman nagar colony, surrounded by  the houses, the high Dwajasthambham literally meaning "flag pole" is a giveaway for the presence of the temple. Absence of Gopuram (the monumental tower, usually ornate with various carvings) is quite evident but the serene atmosphere is broken with chanting of Vishnu Sahasranamam by the residents of Hanuman Nagar colony every evening.
Foundations :
This temple is founded by Chekoti Badraiah, a farmer who came to the city 50 years ago from Nalgonda & Sommakka who nourished deep spirituality. Finally with the help of Dammaiguda Village & surrounding people he performed the ground breaking ceremony on 22nd March 2009. An year later under the auspices of Sriman Rajagopala Charya Swamy, Jeeyaguda, the idols in the Sanctum Sanctorum were installed and the temple was inaugurated for the devotees.
Later the temple expanded its premises by installing Lord Hanuman in the form of Abhayanjaneya (meaning protector) and Lord Ganesha in form of Vijaya Ganapati (meaning removal of hurdles) to accommodate the sentiments of the people at large. It is a befitting temple to the citizens of Hanuman Nagar.
Devotional Activities in Temple :
Apart from the regular prayers and festivals to the Lord, the local citizens participate in the mass chanting of VishnuSahasranamam every day. On Ekadasi it is chanted for 11 times and on Masa Sivaratri (that falls every month) they chant for 108 times, which may take 36 hours to complete. The marathon chanting begins in the early hours of Masa Sivaratri and continues till next day. Apart from the Vishnu Sahasranamam, in the Hanuman temple the slokas of Ramayan are read every day for a period of 60 days and at the end of the 60th day Sri Rama Kalyanam is performed with pomp and fare.The recently concluded Brahmotsavam has seen atleast 2000 people participate in the 2 days of the 6th anniversary celebrations. The temple opens early in the morning at 05.30 a.m. with Suprabatha Seva and Swamyvari Abhishekam,Lakshmi Ammavari Abhishekam, Vinayaka Abhishekam and Hanuman Abhishekam and closes with Pavalimpu Seva at 8.30pm on regular days. On Ekadasi when the Vishnu Sahasra Parayanam is held it closes at 9pm.