Sri Krishna Ashta Lakshmi Devalayam – Sainikpuri
Sri Krishna Ashta Lakhmi Temple- Sainagar, SainikPuri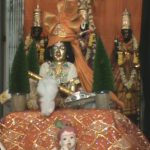 Sri Krishna Ashta Lakhsmi Temple located at  Saipuri Colony, Sainikpuri. A dream of one man  Late Sri S. Pratap Kumar who is the founder and Chairman of this Temple Trust. A must visit temple which has Principal deities of Lord Krishna along with Ashtha Lakshmi's namely Adi Lakshmi, Dhana Lakshmi, Dhanya Lakshmi, Gaja Lakshmi, Santhana Lakshmi, Dhairya Lakshmi, Vijaya Lakshmi, and Vara Lakshmi  who are worshipped in two sides right and left side of the Main temple that houses the Sree Krishna. The architectural splendor of the idols of the deities and the decoration and colorful marvel that is visible leaves every devotee in a state of trance which cannot be expressed in words but one can experience the serenity that is in the temple which can happen only if you one is fortunate to get a darshan opportunity to offer our sincere prayers in this mini Shrine.
Located in sleepy corner on the High Tension Road nearing Kalyan Gardens, the stupendous task of constructing this temple was carried out by a good Samaritan Sri S. Pratap Kumar. Born in the year 1961 he  had immense devotion and dedication to render services to the Lord Krishna from his childhood days. Having born in a humble family and losing his father at a tender age of three he was raised by his mother with literally no support from Relatives and Friends his Journey was full of struggles how ever his faith towards the almighty was unshaken right from his childhood days as  he was very Strong mentally and  spiritually. An incident was narrated to by his wife Mrs. Tamil Selvi, who shared that "At the age of ten he won a lucky dip prize of twenty one rupees in cash, which was a big fortune in those days. With this sum unlike other children of his age, he might have brought sweets, chocolates and toys, but he purchased a picture of god and goddess Radhakrishna performing Gaupuja" which speaks volumes of devotion this man possessed even as a young child.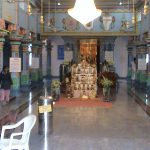 In his growing days he started visiting Sri Radha Rukmini Venugopal Swamy Devasthanam located in Ammuguda every Saturday without fail. In The year There 1976, he became closed associated as a Trustee member of the same temple and began donating generously whatever he could towards philanthropic causes like renovation of old temples.
Around this same time Sri Chakra Enclave was fastly developing on the High Tension Road and the founder Member Sri Prabhakar bought a  piece of land, where this majestic temple stands today as a Inspirational place of worship a example of true dedication for a divine cause. Many local residents advised the promoter of this temple  to use this land for commercial purpose as the land rates are pretty high there, but he vehemently declined this  and registered this land in favour of Smt Sringaravelu Devaki Seva Trust in 2003.
The visionary who  believed in "Nishkam Karma" as his guiding principle saw his dream turning into reality. Amidst Auspicious Muhurtam On 5th March 2009 the temple was consecrated by His Holiness Sri Sri, Sri Tridandi Srimannarayana Ramanuja Chinna Jeeyar Swamy who performed the prathistha in a pious way .
The main highlight of this temple is ample space for proper pradakshina around each avatar of Lakhsmi. V Ravi Chandran a committee member says, "It is believed that if you perform puja for Dhairya Lakhsmi all the other lakhsmi's will rally behind her". Every day Puja, Archana is performed and Prasadam is distributed. Every Sunday bhajans and kolatam (Dandiya) is performed.
During the Shravan Mas Sarees are auctioned every Friday and the proceedings go for the development of the temple premises. Krishnastami is celebrated in a  grand way where 56 Bhog is served lavishly to devotees.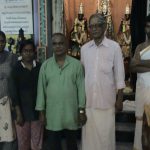 Though he did not live long to see the fruits of his untiring labor. His better half Mrs Tamil Selvi who is the present Chairperson and Director of the trust continues to maintain and develop the Trust with the same spirit what her husband has always cherished in his vision for this Trust. The other board members like R Yagnanarayana the present President and KVLN Bhaswanth, Secretary and committee members like Sunder Babu Naidu Manage the Temple Trust and organize various events in the temple on a day to day basis.