Prasannanjaneya Swamy Devalayam – Meerpet H.B Colony
  Sri Prasannanjaneya Swamy Devalayam – Kurthalam Peetham ,
Meerpet H.B Colony Phase -1 Moulali
During the year 1980 Meerpet  area  has undergone lot of changes with HB Colony phase-1 taking shape this colony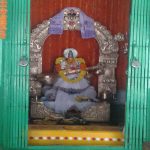 had a  Prasannanjaneya Swamy temple in a open land.  Kudos to the untiring energy and efforts of the temple committee today it is a shrine with all prominent deities of our hindu tradition.
B. Laxma Reddy brother of then legislator donated  and volunteered for construction of a tall gopuram at the entrance which adds splendor to the temple architecture. The unique feature of this temple is the trinity of goddeses  Sree Lakshmi Ammavaru, Sree Saraswathi and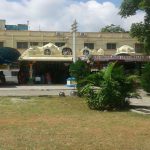 Durga Mata facing the eastern side or Eeshanyam dikku which is rare in any temples say the temple authorities.  Bhadrachala Ramulu and Sree Sita along with their disciple Hanuman are worshipped in this temple and during Sree Ramanavami devotional meets are organized on a grand scale. The temple also has  idols of Lord shiva and Parvathi Devi worshipped as "Kashi Vishwanatha  and Annapoorna devi"  along  with  Lord Ganapathi and Sree Subramanya Swamy and Navagraha devathas . Philanthropic families belonging to Devulapalli surname have donated quarters for families of priests serving in the temple.  One of the highlighting aspect of this temple is its sprawling area in which the temple is located which is spectacular and serene with lot of greenery specially with  Neem, Tamarind, Raavi, Bhilwavruksham and Jammi all these plants have sacred importance in our hindu culture and these leaves are offered  during the puja as they are favorite  to  gods and also have high medicinal value.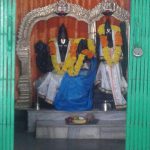 Along with all the important festivals in the telugu calendar the temple witnesses a massive turn out of devotees during the Maha Sivaratri , Vaikunta Ekadasi,  Goda Kalyanam, Brahmotsavalu and Karthika Masam . Dusshera is celebrated for 10 days and scores of women perform saamohika Lalitha parayanam and Sahastra Kunkumarchana  during these days.  A strong team of twenty Members who comprise the Temple organizing committee headed by  their President Sri . Sudhakar  meticulously  plan all the events in the year and ensure that services to all deities are performed very piously adhering to all customs and traditions very religiously. It's a temple which one gets habituated to visit repeatedly  for the aesthetic sense that devotees experience during their stay in the temple premises.
President D.Sudhakar  Public Relations and Information In-charge Sri. V.Gopal – 9550995279