Sri Shiridi Sai Baba Samsthan Trust – Meerpet
 Sri Shiridi Sai Baba Samsthan Trust Reg No -72/92
    Venkateshwara Nagar Colony, Meerpet, Moulali, Hyderabad-40 Phone: 27131504
Akhilakoti Brahmandanayaka RajadiRaja YogiRaja Parabrahma Sri Sachidananda Sadguru Sainath Maharaj Ki Jai !!
A humble initiative which was the earnest desire of few likeminded people residing in Venkateshwara Nagar colony in Meerpet , Moulali in the early Nineties  with a Photograph of Sri Shiridi Sai Baba over a period of  time became a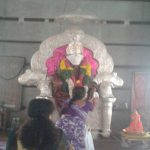 prominent Shrine of Baba. In the words of one of the Founder Trustee K. Thiagaraj " During the late eighties most of the families who worship Sai Baba Used to go to Malkajgiri Sai Baba Temple which is quite far seeing their fervent devotion towards the Lord we mustered local support  through Sri Raji Reddy who was Muncipal Chairman who allotted a piece of Land adjacent to a abandoned well" he added that  with the blessings of the lord the group of Trustees  registered  it as Shiridi Sai Samsthan Trust  and a good Samaritan Sri Ravi Kumar who happens to be a Real Estate Developer Donated the Idol of Sri Saibaba which is in a seated position ordered to make from Jaipur(Rajasthan) and formally idol was installed in 1992 from then the Trust has undertaken various developmental activities under the aegis of the Temple.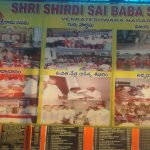 Today the temple has a Spacious Dhyana Mandir in which devotional meets are organized and during the other times its given on hire for events like marriages and the revenue is routed to meet the maintenance costs of the Temple.  Apart from the devotional  activities every day the Saibaba Samsthan Trust engages in lot of charity work which Is noteworthy according to the Treasurer " On the eve of Gurupournami  every year the trust bears the fee of needy children to meet their educational costs as part of our Vidyadhanam  Program"  likewise the Trust engages in Annadanam  on a weekly basis where all the visitors are provided meals and at regular intervals Eye camps are conducted with the support of Lions Club and free spectacles are given to the poor. Rangoli competitions are held annually during Sankranti to encourage young girls to showcase their talents.
Sri Madhu is the priest in the temple who performs the daily rituals to the Lord in a systematic way. Thursday being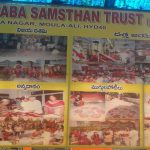 the auspicious day for the darshan of Sri SaiBaba the temple has a huge turnout of devotees  in order to manage the crowds and ensure safety of visitors the Trust committee have installed sixteen CCTV cameras for keeping a vigil on the temple premises.  For the commendable service that the samsthan is doing it is one of the few temple trusts who are entitled to receive donations that are exempted under Section 80 G.  A temple where devotees who visit once become part of the temple for the miracles they experience upon worshiping the lord over here.
Special Days In the Sai Samsthan: Apart from  Daily rituals the Trust Celebrates Sri Ramanavami, Guru Pournami, Vijaya Dashami  and Datta Jayanthi in a grand scale during which devotees in huge numbers participate and worship the lord.
Shiridi Sai Samsthan Trust Executive Body : Chairman : B. Raji Reddy Ex-MLA,  Founder Trustees K. Thiagaraj,  and B.Pandu.  General Secretary : G.M.J. Raju  Treasurer: K. Nadam Chary