Abhayaanjaneyaswamy Temple -S.V.Nagar
Abhayaanjaneya Swamy  Temple – S.V Nagar, Near Nagaram
Anjaneyaya Vidhma he Vayu Putraya Dhimahe Thano Hanumath Prachodayath!
The Abhayaanjaneya swamy temple located in SV Nagar street number 7 near Nagaram I has a intresting history behind its existence because of  the faith of the devotees and their collective efforts the temple today is one of the powerful temples where devotees feel  a  a sincere prayer to lord Hanuman over here all your obstacles will vanish and you are on the path of prosperity.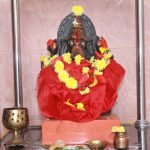 Though the origin of the Anjaneya swamy statue is exactly not known as per the information of localites associated with the temple since its inception it has been more than two and half decades back  that the statue located on the bank of the pond has been instrumental in creating miracles as it is popularly  believed by devotees as  a swayambu ( which means it is the lords wish to have a abode in that place to protect his devotees) hence the name Abhayaanjaneya swamy temple and gradually  this place became  the most  sought after places for the devotees of Anjaneya Swamy . Few years back the temple priest along with Mr.Bikshapathi(presently full time Trustee among the board members) has  taken the initiative and pains to collect some funds to build a temple and carry on rituals on a regular basis.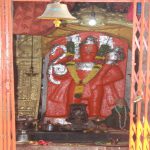 Today the temple board could successfully build a Navagraha Mandapam, and installed a Subrahmanya swamy idol and  also recently  amidst sacred traditional way  installation of  the Siva lingam took place with the strong participation from all the nearby residents, businessmen belonging to the Hindu community. The board is quite excited with the various initiatives which took place in the temple the progress achieved is motivating them to periodically launch various devotional and welfare activities for the benefit of the society. Voluntary donors willing to sponsor in any form for a philanthropic or divine cause can contact  the Temple Trust .
For further details regarding regular schedule of various Sevas and regarding the rituals and contributions for various activities devotees  can Contact  Mr. Bikshapathi(retired RTCemployee)  Phone: 9347236844.