Shri Saibaba Dwarakamayi Samsthan – Mangapuram H.B Colony
      Shri Shiridi Saibaba Dwarakamai Samsthan Trust – Regd. No. 234/1V/95
                                                       Mangapuram Meerpet, moulali Hyderabad -500040
Sri Shiridi Sai Baba Dwarakamayi Sansthan Trust was formed by few like minded individuals  residing in Mangapuram colony  in the year 1996. This collective group of individuals mobilized funds and resources with a sole objective of having a place of worship for the devotees of Guru Dev Sri Shiridi Sai Baba. The Land in which the temple was built was donated by Sri S. Jayaprakash Narayana.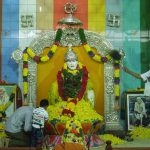 The Temple trust initially had a humble beginning and it was On February 29, 1996 with a small Tin Shed of dimensions 12ft wide and 15ft long was  built and in that  a photo graph of Sri Saibaba was  installed. Since then all trustees and devotees started performing various Bhajans and seva  activities  and with the blessings of the lord the temple and its glory has reached many house holds residing  in the adjoining colonies. Today it is the most prominent Saibaba temples in Telangana area and the temple follows all the rituals in accordance to the practices that are there in Shiridi.  Sree Rama Navami and Laksha Deeparchana on Vijaya dasami are some of the occasions that happen on a grand scale and devotees in huge numbers visit the temple to have a darshan and seek Baba's blessings.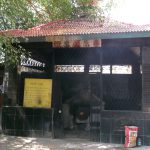 The Temple Trust initiated  Patanjali Yoga sikshana hall is in the ground floor and the main hall of dwarakamayi is in the first floor.  Mayi means mother, in other words Sri Sai Baba here is worshiped as mother and hence every day a new saree is used to during suprabatha seva to decorate the idol. Sri Anantha Rama Sharma and Sri Chaitanya are the Temple priests who perform the daily rituals to the lord in this Samsthan.
  Special Days in the Dwarakamayi Samsthan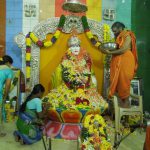 February last day – Every year the last day of Februrary is the Anniversary celebrations of the Temple. Ugadi the telugu new year day is celebrated with Panchanga Sravanam. Sree Rama Navami Seeta Rama Kalyanam is performed and during that festivities Annadanam will be organized wherein about 4000 to 6000 devotees will attend.Guru pournami is performed with sai satya vratams and followed by lunch to about 1000 devotees.
On June 7th Every year 108 kalasa abhishekam will be performed as it was on this day the main Idol in the temple was installed. During Vijaya Dasami  Laksha ( One Lakh) Deeparchana will be organized which is a spectacular event witnessed by scores of devotees who visit the temple.From the year 2013 the Dwaraka Mayi Trust has initiated  free lunch to devotees and needy  on all thursdays as Guru Prasadam to devotees.  SRINIVASA KALYANAM will be performed in the temple on SRAVANA nakshatram every month.
Welfare Activities of the Dwarakamayi Samsthan
On every thursday 300 to 500 people are fed  annadanam (Guruprasadam) which happens uninterruptedly throughout the year . A free Yoga centre which is open to all interested people daily in the temple hall. Baba is adorned with new sarees  daily throughout the year. Homeopathy medicine are distributed free of cost on second and fourth Sunday of every month.
For Further Details Visit the Temple in Mangapuram.  Chairman Sri A. Raghupathi Reddy 9440479333   Secretary M.Sesha sai, Treasurer P.Sai Prasad 9866154504