Sai Baba Temple – Sai Nagar, Malkajgiri
   "Om Sri Samardha Sadguru Sachidananda Sainath Maharaj Ki jai"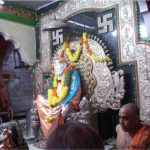 Sai Baba temple located in Sai nagar, Malkajgiri is a famous landmark and there could be no local individual who is unaware of this temple. In the year 1964 when Malkajgiri was almost like a village with very few houses there was much open land it was around that period two benevolent individuals Raja Mudaliar, and Choka Lingam donated about 1200 yards and wished that a Saibaba temple should be built in the area. The success story of this famous Sai temple began in a humble way with local elders Sri. G. Laxmiah, Sri. K.Venkatesam and other associates who used to meet in the evenings and chalk out a mission to develop the place into a shrine with the divine blessings of Shiridi Sai Baba. This group in the same year on a auspicious day kept a lord vinayaka idol and started worshiping. Over a period of time after series of devotional activities and active participation of people from all walks of life the Sai Charitable Trust gained momentum and started to focus on developing the temple steadily. In the words of G.Hanumantha Rao who has served the trust in various capacities " Each family used to contribute one rupee on a monthly basis to maintain the temple but we were seeing the development of the temple which gave us the confidence that we can succeed in our vision as we had the blessings of Sainath" concluded this trustee who still oversees all the activities without fail on every thursday when thousands of people visit the temple for darshan.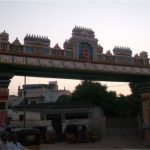 Dec 6th1982 is a red lettered day in the history of this trust as the journey which began with a photograph of Sri Sai Baba finally materialized in the form of a pure Marble life size idol of Sainath which is identical to the one we see in Shiridi, Saibaba vigraha prathishta was performed and this was the turning point with the blessings of Shiridi Sai baba the trust gradually started a kalyana Mandapam which is given on a rental basis to locals to perform marriages the revenue thus generated is used for the development works.
SaiSevaSadan
The trust purchased a piece of land adjacent to the temple and initiated a Multi Speciality hospital which is an out patient facility and expert doctors are available who extend their services with a meager 30 rupees as consultation fee. Bharat Vikas Trust provides high quality medicines at a subsidized cost the sai seva sadan has complete diagnostic services for the benefit of the people. On every Thursday besides feeding nearly 2000 poor people the trust arranges free eye check up camps and distribute spectacles to the needy. Sai Charitable trust also provides vocational training to women where more than three hundred women learnt tailoring, embroidery so that they can be economically independent.
Sri Sai Nivas Choultry in Shiridi
Saibaba Charitable trust has built a 50 room choultry with a dormitory and a restaurant in shiridi to enable all the piligrims visiting shiridi from hyderabad have a comfortable stay. People can avail this facility by contacting the trust. The trust also has a vision to start a Home for the aged and a school for the children in the name of Sai baba.
"Om Sai Sri Sai Jai Jaya Sai"