Veda Bhavan – Vinayaknagar, Neredmet
Address: 58-59 Road No 1, Chandragiri Colony, Neredmet,
                WEBSITE; www.vedabhavan.org, Email; vedabhavan@gmail.com,ghanapati@gmail.com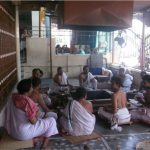 Veda bhavan which runs Sri SankaraGuru Vedapatashala in chandragiri colony Neredmet has been established in the year 1968 with the blessings of his holiness sri Paramacharyal of kanchi Kamakoti. The ideals of this divine institution is to impart vedic knowledge to young aspirants in a systematic way adhering to all the ideals and constantly aiming to perform rituals for universal well being.
The main activity of the veda bhavan as shared by Sri. Srinivasan Ghanaphati who takes care of the gurukulam "our aim is to impart vedic sciences and shastras in a traditional gurukulam method and ensure that all the disciples in the holy patashala develop strong command over sacred vedic knowledge" besides this some important sevas are performed on auspicious days. overall it is indeed a blessing to get an opportunity to witness the daily rituals that are performed very sacredly in this divine institution.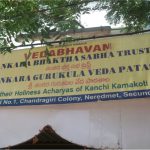 Some Important Sevas At Vedabhavan
Rudrashtakam, Pradosham puja, Lalitha Sahastranamam, Vishnusahstranamam, Ganapathi Homam, Sundarakana Parayanam, on appropriate auspicious days.