Business Profiles Know Your Locality
Radhika Enterprises – Balram Nagar
 Radhika Enterprises
                                             Address:  Balram Nagar Old safilguda Near Shivalayam Contact : Mr. Niranjan Mobile: 9394877621
Adult Diapers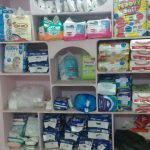 Do you have aged members in your family who face trouble controlling whenever they have to urinate? Did you come across somebody in your known circles who suddenly need to go to the toilet so badly that they are not sure if they can make it in time. The loss of bladder or bowel control known as urinary incontinence is a common disorder, often embarrassing and frustrating problem for majority of people. Although urinary incontinence isn't necessarily a normal part of ageing consulting a doctor is one solution. Even if the condition can't be completely eliminated, modern products and ways of managing urinary incontinence can ease your discomfort and inconvenience.
Adult Diapers are the perfect solution to the problem of incontinence. Our diapers are made in India, adhering to the highest product quality and are ideal for patients suffering from Prostate disorder, Piles, Incontinence, Diabetics, Mentally Retarded Adults, Urology patients, Bedridden & Disabled patients.
Baby Diapers
Baby Care Products are specially designed keeping in view the tender and delicate baby's skin. Diapers for babies are specially made with 3D core design containing SAP (Super Absorbent Polymer) to prevent bacterial growth and keep baby skin dry.
These Diapers are carefully shaped for the best fit and comfort, offering freedom of movement with optimum absorption capacity. And our innovative feature of diaper 'Wetness Indicator' indicates the need to change the diaper, so that the child does not suffer from rashes.
Scientifically Designed for Comfort
Anti bacterial absorbent core -contains anti bacterial SAP (Super Absorbent Polymer) which ensures dryness & prevents growth of bacteria.
Resealable side tabs facilitates repetitive adjustments.
Hydrophilic Non-Woven top sheets for fast absorption.
Decorative  "No Tear" frontal tapes for easy fastening.
Elastic Threads Garters for snug fitting.
Wetness Indicator – Writings disappear or fade away when the diaper is fully wet, indicating the need to change the diaper, so the child does not suffer from rashes.
Cloth like back sheet for better breathability and comfort.
Standing Leg Guards to prevent any side leakage.
Some Of Our Brands in Adult and Baby Diapers
AXEL KARE Adult Diapers, Easy Fit, Total Care Adult Diaper Breifs, Good Baby Disposable Diapers, Teddy Soft Diapers Note: in all the brands we have Large Medium and Small varieties at affordable prices.