Helping Hands Know Your Locality
Mothers Nest Old Age Home – Neredmet
 MOTHERS NEST
                                                             ( A Home Away From Home For All Age Groups Of Women)
Registration No 594/2005
H.No 37-113/4 Sree Colony Neredment Cross Roads Hyderabad
Contact Number: 9949006561, 9989475775
Website: www.mothersnest.in Email : mothersnest@sify.com
THE HANDS THAT SERVE ARE HOLIER THAN LIPS THAT PRAY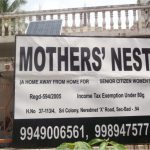 Great Service Organizations are born when Mankind is struck in adverse situations or sometimes by sustained initiatives of Individuals who have genuine passion to help the needy in society. The success story of Mothers Nest a voluntary Organization established in 20005 is a touching example of service to humanity engaged in extending residential care to the elderly women who prefer to stay in the mothers nest than with their kith and kin. Mothers Nest an initiative of Mrs. Malathi Arun Kumar whose journey of serving people began with her association with NIMH a body working with special children during her stint she came across an opportunity from a leading five star hotel who wanted bulk quantities of milk and grinded coconut to be supplied on a daily basis for their hotel and they wanted the income thus generated to be routed for the welfare of special children in NIMH's project Swayam Krushi an Income generating program, But since the organization could not handle the assignment involving special children Malathi took up the challenge and started the same on her own in a rented premise in Neredmet and engaged a Old couple who were dependent on this work for their sustenance. With this humble beginnings gradually Malathi developed an empathetic attitude towards senior citizens and got into full fledged residential home for the elderly women and today Mothers Nest takes care of 20 senior citizens among whom majority are above 75 years.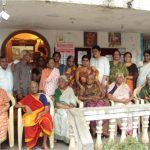 During their ten year association with Mothers Nest the founders especially Mrs Malathi Arun Kumar the driving force behind the project had to encounter many challenges in handling day to day activities especially from the families of inmates, because of their indifferent and devil may care attitude once they are admitted but this did not deter the founders. Since "Mothers Nest does not insist on payment from senior citizens during the admission process there are many instances wherein the families want to completely wash of their responsibility" concluded Mrs Malathi. Besides ensuring all basic amenities in the home including medical support periodically and during their terminal stages and in the event of sudden demise performing even the last rites of inmates is a normal experience to Mothers Nest. Addressing the stigma and counseling families who do not want to take care of their senior family members during their critically ill stage is the focus area for Mothers Nest. The residential home provides medical care to its senior citizens from Dr. Muralidhar who extends voluntary service and whose counseling gives a healing touch to all the ailments of inmates.
Apart from Counseling the inmates and their families Mothers Nest ensures that every one in their nest are happy by providing nutritious food, and a homely and congenial environment is palpable in the home. However since the expenditure to manage such a home of senior citizens involves huge sum for maintenance and development of services Mother's Nest welcomes voluntary donors to extend their support in any form to support the program. All donations to Mothers Nest are exempted under section 80G of IT and they even got RBI approval to accept donations through ECS this drive is an attempt to have secured funding on a monthly basis for Mothers Nest in which a donor can contribute starting with a minimum of 200 rupees which will be spent for the welfare of the senior citizens in Mothers Nest. Let us Save Our Seniors.