Ecil Helping Hands Know Your Locality Services
PEERS – Childrens Home – Kushaiguda
 PEERS- UNDER PRIVILEGED CHILDREN'S HOME
                                    PEOPLE EDUCATION ENVIRONMENT RESOURCES SOCIETY REGD-8135/2001
Unlimited Food For Education And Health
Contact : Mr.A.Kumar, Founder & President
 Address: H.no 1-10-199/21/72 Subhod Nagar Colony,
Vasavi Nagar Road, Kushaiguda, Hyderabad-62.
Mobile: 9959715689/ 8341314745,
Email: peers2001@yahoo.com
Children of God coping with life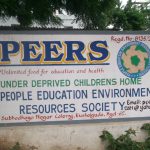 As rightly said by the former president of South Africa Dr. Nelson Mandela "There can be no keener revelation of a society's soul than the way in which it treats its children"PEERS a Home for the under privileged children is a NGO working for over six years providing residential care and Educational support to deprived children, Majority of whom are either orphans or partial orphans who are totally dependent on the services of PEERS. A Noble initiative of Mr. A. Kumar a qualified social worker who has vast experience in working with various service organizations Like Smile Foundation and Aided Action related to children s issues.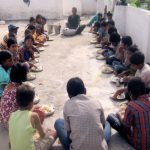 How Peers originated? hailing from a small village in a poor family the founder of PEERS Mr.Kumar had to face great difficulties right from his early childhood as he was deprived of basic resources to attend school and college in later years. All these hardships did not deter Kumar and he worked on various daily wage errands to pursue his Post Graduation in Social work from Nagarjuna University and his personal experience has left a deep impact on his personality. Having campaigned for child rights in his professional life the founder was determined to do something for the under deprived children on his own and thus PEERS was born. It is heartening to know that PEERS today takes care of nearly 30 young boys and girls for whom kumar is a father figure and is the only guardian and a shoulder to lean on. Augmenting resources of all kinds this NGO has managed to get free admissions to all these children in decent schools like Akshara, Gopi convent school and Government school.
PEERS has already seen the fruits of its labor as four of their children who joined the home namely Ramesh, Prabhakar, Sunil, and Naresh after they were picked up by the NGO were brought under the care and guidance of its founder who supported them. PEERS encouraged them to clear their tenth standard and facilitated them to prepare for RRB exams that changed their destiny currently they are working in Indian Railways. As a token of reciprocation for his selfless service the four men have decided to contribute a small percentage of their monthly earnings to meet the operational costs of this PEERS. Due to lack of funds from the government bodies like Child Welfare Committee for the welfare of such children they are left with no options but to depend on voluntary donors for resource support.
PEERS would like to appeal all responsible citizens to empathize with such children and extend in what ever form you feel is appropriate to alleviate the conditions of these children in the areas of Food, Education, Health, Residential care and recreation as they need a helping hand since they are in a tender age with lot of future ahead of them with your support their careers can be shaped.