Ecil Helping Hands Know Your Locality Services
Abhyaasana Educational Society – Anupuram
Vocational training and Special Education Centre for Mentally Challenged Children & Slow Learners
Address : House No 1-6-54 Plot No 39, Opp Anupuram Community Hall,
Anupuram, Dr.A.S.Rao Nagar ECIL Post, Hyd-500062 Contact Number: 040-270144399 Mobile: 9848468782, 8106267116
 ABHYAASANA Educational Society is a registered voluntary Organization established in 2006 runs a vocational training and Education Centre along with therapeutic treatment and medical care for the Mentally challenged children and slow learners. Mission Of ABHYAASANA To impart and promote Education/Learning for the special children through vocational training centres. Providing Special Assistance to Slow learners keeping in view their IQ levels. To Provide medical and therapeutic care for mentally challenged children. To engage them in activities through vocational training and tap their latent potential. To Organize Cultural and Social events for the welfare of the special children.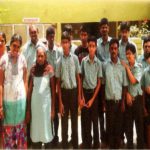 Services Of ABHYAASANA Special Education : Abhyaasana provides special education to children through innovative teaching methods and teaching aids to enable them learn basic life skills. Important developmental milestones identified during assessment process and subsequent parent counseling gives a road map to the special educators.
Vocational training: Based on the Aptitude and Inclination of the special children Abhyaasana exposes the children in following vocations Computer Training, Xerox and Lamination, Handicrafts, Candle Making, Phenyl, and Washing powder making.
Therapeutic & Medical Care : Abhyaasana lays emphasis on Speech therapy and physiotherapy common needs of special children besides parental counseling at regular intervals. Co-Curricular Activities: As special children's vital needs center around recreation at Abhyaasana children are provided constant exposure to Music, Dance, Yoga, Meditation, Drawing, Painting and games to encourage children.
Any willing donor can be part of Abyaasana's mission Sponsor a child's Education &Training for a year Sponsor monthly salary of a special Educator/Specialist Sponsor a meal for a day to the school Sponsor a event/ a camp/ Monthly maintenance/ Corpus fund/ Training equipment/ Teaching Aids Any service minded person willing to donate for a noble cause can celebrate their special occasions like Birthday, Marriage day or any special occasion with the children at Abhyaasana.