Know Your Locality Places to Know Shopping.
Lucky Traders – ShanthiNagar
  Lucky Traders  Aluminium  Fabricators
Address 12-1-692, Shanthi Nagar, Lalapet, Secundeabad – 500017
Branches in Balanagar, Jeedimetla, Malkajgiri  Email :vittijagan939@gmail.com
Website: www.luckymosquitomesh.com Phone:9000911269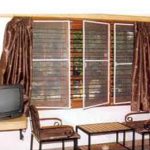 Lucky Mosquito Mesh is India's leading manufacturer's and distributor  with more than three branches in Hyderabad. We are a specialists in manufacturing customized  insect screens and insect screen systems to keep flying insects (mosquitoes) out while allowing fresh air to circulate around the rooms in house. That's not all, the insect screens and insect screen systems also filters pollution such as tiny dust particles to ensure fresh air percolates  inside the house. Mr. V.Jagan  who has more than 24 years  experience in dealing with structural designs is the owner of this firm based in Hyderabad.
A  Glance of Our Products
Single Door : A perfect fit for Out swing and in-swing  doors advantages of having this door is that it shields the entry of mosquito's.
Double Door : Hand crafted and customized to fit your exact opening.
Roller Screen  Door:  These are manufactured using high quality aluminum and fiber material which add to the ambience of modern homes. These require high degree of design engineering.
Pleated Door : Made out of pleated polyester fabric. It can be installed instantly with user instructions given for effective usage.
Sliding Door: The advantage of having these doors when the screen is not in use you get the advantage of having the full view.
Sleek Screen Window: They are transparent preventing mosquitos, Easy to attach and detach using butterfly hinges.
Roller screen Window: High velocity wind resistant which reduces the entry of UV light.
Detachable screen Window: The Lucky Mosquito mesh provides affordable range of meshes which are easily usable to prevent the entry of mosquito's into the house.
Our services Include: At Lucky Mosquito Mesh we design solutions to your doors and window to protect your rooms from insects and mosquito's to enter. Based in Hyderabad, India, with a market presence of  over  two decades of professional experience, we develop structural designs that are versatile, robust, fire and corrosion resistant, easily cleanable and elegant screens that are custom made for windows, doors, balconies and other outdoor openings. Our other products include Parking Tiles and all stage water purifiers.