Business Profiles Fitness Health Care Places to Know
Welcome to a Happy & Healthy place – Sim & Sam's Party and Play Town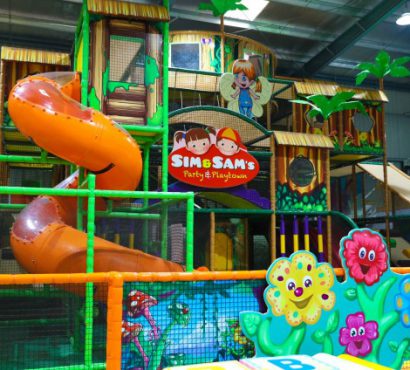 Sim & Sam's Party and Play Town
When the mother of two young kids decides to build her business around bettering the quality of children's lives, you're bound to spare a thought and listen to what she has to say.
Neha Ahuja has worked different jobs all across the world. From being a banker in New Delhi to becoming an English teacher in Japan, and then taking up a corporate role in Australia, she's a person that has learnt a lot from her experiences.
The fact that she wanted to settle down with her family in Hyderabad is a boon for our city. Neha has set up her family business in Kompally. "Sim & Sam's" is named after her two young girls, Simar and Samaira. Being an active and dutiful mother, she has tried to ensure the best for her children, always. She keeps them away from mobile phones and gadgets, because she strongly believes that they negatively affect the growth of the child. This ideology of hers is what brought about Kompally's very own children's playground.

The Idea behind creating a Technology and Gadget FREE space is to promote health and happiness among children. It is a play space that every child craves for and is meant to experience as a part of their growing up ages. It is pivotal for their thinking minds, stronger bones, healthier bodies and wholesome development. The play area at Sim and Sam's provides all the infrastructure and equipment to facilitate such body actions & functions.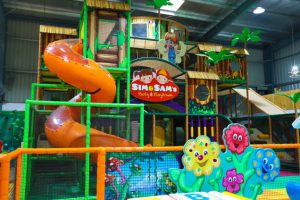 Sim & Sam's has a Play Zone as well as a Party Zone.
The Play Zone has equipment for toddlers as well as older children. It is filled with Trampolines, Bouncy Robots, a Junglee Maze and many Outdoor Sports and Activities.
The Party Zone is built for that special day of the year when KIDDO IS THE BOSS! At Sim & Sam's, the little party brats can have a rocking time with their best friends, their style, with their favourite cartoon characters and yummy food on their birthdays.
Their mission is to bring up a Generation which is physically FIT with Healthier and Stronger bodies to take on the Challenges of life later.
Learn more about their working hours, pricing and services by visiting their website at www.simandsams.com . Make way for a healthier generation of kids!