THATWAMASHI SWAMIYE SARANAM AYYAPPA! – KAMALANAGAR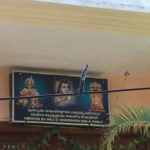 Swamiye Saranam Ayyappa, this mula Mantra reverberates innumerable times in this temple premises and many residents begin their daily chores only after visiting this famous temple and participating in the holy chanting. The temple attracts thousands of families residing in various locations near ECIL, Dr. A.S. Rao Nagar and Kamala Nagar colony in the morning and evening times with devotees in large numbers coming from various places for the darshan of the Lord.
Way back in 1973 a small group of devotees who travel to sabarimala annually decided to have permanent place of worship in the name of Sri Ayyappa Swamy to perform their daily rituals during their Deeksha which is called Mandala Puja. Gradually today it has transformed into one of the prominent Ayyappa swamy temples in Hyderabad where annually around (3500 to 4000) devotees adorn the sacred Deeksha mala and perform the puja for forty one days before they visit the famous Sabarimala which is in kerala on the banks of river Pamba. With the blessings of Lord Ayyappa and the association's concerted efforts many developments have taken place after building the temple for Ayyappa Swamy in this area.
Every Saturday special bhajans attract lot of devotees to the temple and just like the practice in other temples the priests in this temple too make it a point to mention the gothras and names along with surnames of heads of families, in the locality during the Sankalpam, for seeking the lord's divine blessings for their well being peace and prosperity of all the families in the locality. The temple has idols Ayyappa swamy- Principle deity, goddess Maatha Siva Parvati, Guravayuraappan, Murugan and lord Ganesha) one can experience a blissful aura which cannot be explained but only experiencing the divine power can wash away all negative energy within us.
Trikala puja which means Morning, Afternoon, and Evening are performed piously by well learned priests on a daily basis along with chuttu deepam, and Annadaanam for 60days during which all the devotees are offered food and this is the annual feature during November and December when thousands of devotees adorn the Erumudi with special instructions of a Guruswamy who leads the contingent of Ayyappa Swamy's (as they are referred after wearing the sacred Mala during that period) to seek the blessings of Sabarimala Ayyappa Swamy after which they remove the sacred mala. All the religious activities are planned meticulously by the temple trust which has a executive body comprising of 20 members headed by a president and Secretary. For further details regarding the regular schedule of the temple and offerings devotees can contact the present secretary Mr.Rama chandran Nair.