NAAGA Devatha Temple- Lothukunta ( Army Cantonment)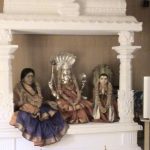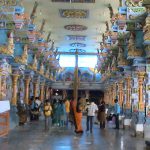 Every year during the Naag Panchami this temple witnesses scores of devotees from various parts of the city who participate in pujas and homams to appease the godess Naga Devatha in full fervor. Naag Mandir located in calm and serene location surrounded by lush greenery in the Army cantonment jurisdiction close vicnity being in Ammuguda, Lal Bazar, Secunderabad, where Sri Naag Devta Naga garuda Panchami Kalyan Mahotsavam is the major festival that is being organised since nearly five decades by Sree Naag devta Sree Narayana Swamy Sree Jayalakshmi Amma Gurusthanam.
A popular place thronged by the devotees, constructed nearly five decades ago. It is widely believed that snake Goddess Nagamma fulfills the wishes of devotees, whoever suffering from chronic ailments like Naag Dosh, or Sarpa Dosha couples suffering childlessness or any other problems like marital discord, domestic disturbances etc.
The foundation of Naag Mandir was initiated in the year 1967 by the temple founder members who later named it as Jayalakshmi Amma Gurusthanam . When a lamp was lit at the spot, mystically it continues to glow uninterruptedly which is called Akhand Jyoti. There is a wide belief among the people closely associated with the temple that an ancient Naag temple existed in the very same premises which is the major source of power in this temple.
The reason behind construction of this temple was because of a sudden personal tragedy experienced by a mother who lost her tender aged son who was of just nine year old when tragedy struck their family. But as they say any incident good or bad happens for a reason, and those who are destined to do something great in life are made of different stuff as even this mother overcame her sorrows and sublimed her affection and grief to the divine power, as Naag Mata came in her dream and blssed her to build a temple for her. Thus this temple found took shape with the divine love of a mother.
Herculean Efforts in the process of building the Temple
During the construction of the temple, the founder Amma Sreelasree Jayalakhmi Amma Garu venerated as the divine mother had to face huge cash crunch, even then she went about it single handedly without asking for any support from anyone. She raised funds by stitching clothes and teaching it, also maintained a cow and raiseda few more rupees by selling its milk and ghee, running a retail saree business, a provision store and chits. It took sixteen long years to bring the temple to its current stage. It is one of the rarest Naag mandirs in the country.
The structure and architectural splendor of this temple is beyond description. The interior sculpture work reminds us of the ancient temple architecture specific to south Indian temples in particular with artistic columns exquisitely a adorned with iconic designs of Naagas all over no matter in which direction you look. One gets a clear view of Naag Lok upon a visit to this temple. Another feature of this rare temple is the wooden statue of founder Amma, which is true to life. The founder went to heavenly abode Samadhi on 26th March 1997.
The greatness of Amma was in serving the people joyously. As long as she was there in the sthool kaya (physical form) the devotees always found her serving food irrespective of caste and creed whoever visited the temple. She always had the heart for them irrespective of their riches or poverty. She always saw to it that no devotee went back empty stomach. The same aspect was seen even in her daughter, Amma Guru Sashi Amma, who took to the temple to the next level. Even she took Samadhi, just like her mother, on 6th August 2010. It is indeed a great place of worship with lot of power which can cleanse all the negativity and bless us to the path of prosperity.
Today the Temple has a gaushala, a free clinic for the needy and also a Pushkarni (Tank) named Theppothsavan, with steps reaching the water from all the four sides for the benefit of devotees.