Sri Gayathri Shiridi Saibaba Devalyam – Gayathri Nagar
 Sri Gayathri Shiridi Saibaba Devalayam
Sri Gayathri Devi Devalayam in Gayathri Nagar Moulali is one of the best temples under the aegis of Sri Sringeri Peetham where lots of devotees visit the temple to seek the blessings of the deity who has immense power to shower on people who worship her sincerely. It's a fourteen year old temple which also has separate temples of Sri Uma sahitha Maheshwara, Ganapathi, Subramanyeswara swamy and a Shiridi Sai Gnana Mandir. The unique feature of the temple is that its located on a rocky structure hence all the visitors have to climb few stairs before entering the temple. The architecture inside the temple is very antique typically that which  can be seen in the temple carvings in Southern India.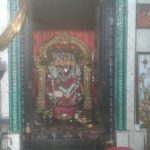 Gayatri Devi is an incarnation of Saraswati Devi who is one among the trinity of goddess along with Maha Lakshmi and Parvathi Devi.  Consort of Lord Brahma, who is the giver of "shakti" (strength) and "dev" which means of Knowledge which are virtues to mankind who worship her. Saraswati Devi is endowed to be possessing abundance of hold in Arts, poetry, and music. In the form of Gayatri Devi, with the blessings of Lord Brahma, she is believed to have given the four Vedas which are the guiding texts to mankind. Gayatri iconography is depicted seated on a lotus. She is seen with five faces representing the pancha pranas prana, apana,vyana, udana, samana, of the five principles/ elements (pancha tatwas) earth, water, air, fire, sky (prithvi, jala, vayu, teja, aakasha).
Sri Subramanyam Deekshitulu is the head priest of the temple who takes care of all the daily rituals in the temple along with other junior priests. Shiridi Sai Gnana mandiram on every Thursday organizes Annadanam to all the devotees and engages in special bhajans. The Gnana mandir is very spacious and has been constructed to accommodate as many devotees as possible on special days in the temple. All the festivals are celebrated with special devotion by the active temple committee. Any devotee who visits the temple can experience a mystic divine touch just by having a glimpse of the deities who are decorated marvelously and the aura around the temple premises constantly is very spiritual in nature.
For Additional Information with regards to sevas please contact Priest Sri. Subramanyam Deekshitulu phone : 9912906236 Temple Committee 9912402484 , 9866112315