Sri Annapoorna Sahitha Kasi Vishweshwaralayam
Sri Annaporna Sahitha Kasi Vishweshwaralayam  – Balaram Nagar Safilguda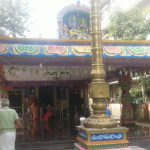 Annaporna Devi is an incarnation of Parvathi wife of Lord Shiva she is worshipped as giver of food for the mankind. The most prominent shrine of Annaporna devi along with Vishwanath is in Varnasi Kasi, Uttarpradesh which is one among the twelve jyothirlinga's  according to Hindu mythological texts.  Parallel to the railway track hundred metres from Safilguda Railway station in Balramnagar colony is the famous fifteen year old temple of  Sri Annapoorna Devi along with Kasi Vishwanatha and Vara Siddi Ganapathi, Subramanyaswamy along with Navagrahas.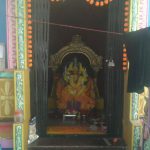 All the deities are worshipped with great fervor by the devotees residing in the nearby locality in huge numbers. According to the Temple priest Sri. Yayavaram Nagaraj Sharma " Devotees come in huge numbers to the temple on a daily basis and especially during the Shravana Masam and Karthika Masam as the former period is of great importance to Sri Annnaporna devi and the latter month that is Karthikamasam  is the period lord shiva is  worshipped" he also added that during these auspicious periods women get together during the evenings and chant the famous lalitha Sahastranamam and lord shiva is worshipped by the priests by chanting Mahanyasa purvaka Rudram, (namakam and Chamakam) to receive the blessing and for the well being of one and all. Masa Sivaratri, Subramanya Shasthi and Navagraha Japam are performed on the specific dates for the benefit of devotees who participate in the pujas to attain prosperity by appeasing the Grahas.
Since the temple is in one of the oldest colony in Malkajgiri very close to the Safilguda lake the colony has majority of households belonging to the middle and upper middle class orthodox  familes who begin their daily  occupation related activities only after paying a visit to the temple. A peaceful atmosphere is palpable in the temple a must visit well maintained temple for all the shivaites.