Santhana Venugopala Swamy Devalayam – Krishna Nagar
A Temple with Rich History And Magical Power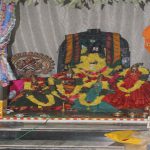 the most revered god in Hinduism. Initially in 1992 the place where this temple is currently  located adjacent to the NFC Compound wall on a rocky area was an abandoned land belonging to the colony and municipal authorities  sanctioned a park to be built.
since it dint materialize the place became a meeting point for vagabonds . Krishna Nagar which  has sizable number of families belonging to Yadava community who worship lord Sri Krishna used to leave their cattle for grazing in this area and according to anecdotes available from reliable sources associated with the temple committee Late Patte Boyana Kondiah Yadav was instrumental in taking up the initiative to clean the area and involving the local heads and converted the place into a Krishna temple.
Gradually with involvement of devotees and local donors developments took place and today it is a prominent place of worship for many families. and its significance is  any childless couple who sincerely worship the lord over year  during the auspicious Brahmotasavam  will be blessed with children.  According to the temple priest " There are many instances when people suffering from various problems experienced sudden miracles in  their  life and that is the power of the lord over here" He also added that the unique feature of the temple is the idol of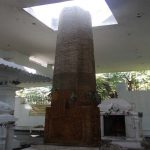 Santhana Gopalaswamy(Lord Krishna) was installed with all traditional rituals and a 37 feet eka sila Dwajastambham carved out of a monolith which was raised in one attempt which usually is impossible. In the process of cleaning the area the workers tried to detonate a rocky structure to create more space in the temple but in vain as according to the localites a long snake used to reside in the rocky structure and it used to come during odd hours and according to their belief its foot prints are identical to the foot prints of lord Vishupadam and eventually the temple committee made a natural Naga devatha idol out of the rock and started praying the temple attained much glory because of these factors as any individual suffering from Naga doshas can perform special homam to drive away the negative vibes and  getting rid of ill effects and attain peace.
Special Days
Apart from Daily rituals special pujas are performed during Dhanurmasam  during which devotees in huge number visit the temple to seek blessings from the lord.  Annadaanam is done during Annual Brahmotsavams with the help of contributions from devotees and public. The sudarshana swamy utsavamurthy is the biggest in the entire south India. In 2014 idol of Goda Devi has been installed. On 11th and 14th jan 2015 Goda Kalyanam and annadanam are being conducted on a large scale. A must visit temple with mystical power emanating positive energy inside the temple. Sri Nagiah a retired employee from DRDO is the current chairman of the temple committee.
For further details you can contact Pradeep Acharyulu at 9948531470