Sainikpuri's New Donut Hub is a great spot to hang out with friends!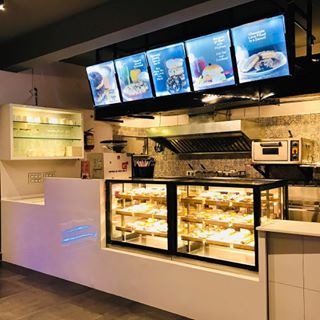 Sanjo's Donuts is a chain of coffee shops in Hyderabad. Newly opened in Sainikpuri is one of its branches, which has wonderful ambience, friendly and welcoming staff, and also some deliciously loaded donuts!
Their menu includes continental food, with burgers, sandwiches and their popular thin crust pizzas. They serve milkshake and mojitos as well, apart from the 15 varieties of donuts that are on display. Their donuts come freshly baked every morning, while every other item is prepared in house, to maintain the quality and freshness of the products.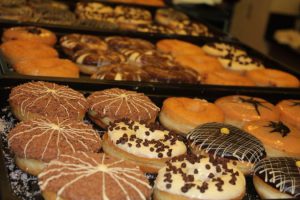 What stands out about this place are three things.
1- The massive projector screen which is used to watch sports games, movies and music. If you're looking for a place to hang out and watch the upcoming season of the IPL, look no further!

2- The availability of a few board games and card games, if you're looking to spend some fun time with your friends.
3- The Post It Notes! Many satisfied customers have left colourful post it notes with their nice experiences penned down on them. It decorates their wall in a creative way, and is also a lot of fun to go through.
Sanjo's Sainikpuri also promotes art in the form of paintings and music. They are a place where local artists put up their work for sale. If you are lucky, you can walk in on a band in the middle of their jamming session as well.
Sanjo's is open from 10am to 11pm each day. It is a great place to get together with friends and loved ones. It is also a lovely place to treat your children to some dessert!