A Complete Family Salon, with its own Tattoo Artist!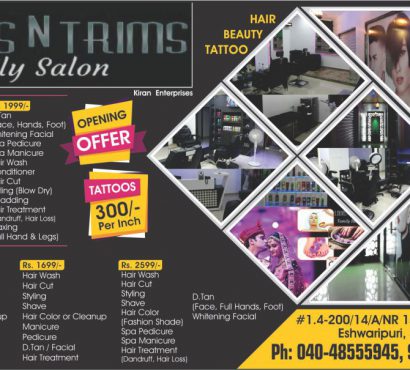 Why is it important to visit beauty parlours?
Zone Adds lists the top 6 reasons for you to take care of your face, hair, skin and nails:
To Rewind and Relax. The benefits of a massage/pedicure for one's physical and mental health are immense!
For Healthy Skin. Just as it is important to eat the right foods and exercise to stay fit, it is important to treat your skin with care and affection to make sure it stays healthy and blemish-free.
To take care of your muscles. Massage is just not only a beauty treatment but also a necessity of body along with mind for keeping them healthy. It is very important in our daily life to relax our muscles and free our mind from daily tensions.
To make a good first impression! The first thing that anybody notices about you is the way you present yourself, so it is important to make it count.
To keep your hair healthy. A hair cut, wash and hair spa are essential tools for your hair. It is important to make sure your hair doesn't get permanently damaged with external factors such as sunlight, pollution and dirt. Regular treatment will make sure you don't suffer from hairfall, split ends, dandruff and other problems.
Your nails are located at the tips of your fingers, which you use for many activities, including eating meals. It is important to keep them trimmed and clean to ensure that they don't carry germs to the rest of your body.
Looks n Trims, Sainikpuri.
Hair Cuts, Blow Dry, Hair Color, Re-Bonding, Pedicures, Manicures, Facials, Ear Piercings, Complete Bridal Packages and even Tattoos!
If you're looking for a unisex parlour that can cater to your beauty requirements as a whole, then look no further. Newly opened in Sainikpuri with top of the line equipment is Looks n Trims.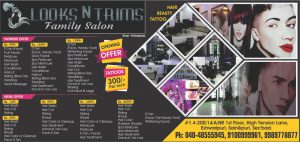 The store is complete with multiple packages available for men and women.
The women's packages come in three variants, costing in between Rs.999 to Rs. 1999. These include multiple services such as haircuts, D-tans, facials and other services.
The men's packages begin with a modest Rs.149 pack for a haircut and hair wash, and the packages go all the way up to a Rs. 2599 pack for a full range of services.
The store also has an inaugural offer on tattoos, which will currently cost only Rs.300/- per square inch.
So wait no more! Head over to treat your hair, skin and mind!
Location: #1.4-20014/A/NR, First Floor, High tension lane, Eshwaripuri, Sainikpuri.
Phone: 0440 48555945, 9100999961, 9989778877.