Vijaya Ganapathy Devalayam – Kalayan Gardens
Sri Vijaya Ganapathi Devalayam
Address: Plot No-29, Kalyan gardens, Sainikpuri, Secunderabad, Telangana 500094
Phone:040 6591 6610
Located in Sainikpuri near Kalyan Gardens  this famous temple was constructed in the year  2004 and the principle deities worshipped in this temple include Sri Vijaya Ganapathi, Sri Sharadamba, Sri Subrahmanya Swamy with Valli and  Devasena, Sri Uma Maheswara Swamy, Navagrahas with Mrithyunjaya Lingam as Kshetrapalakudu, Sri Abhaya Anjaneya swamy.
At the main entrance  a 23 Feet Height Abhaya Anjaneya Swamy idol is a  special attraction with a spectacular carving blessing all the devotees who pay a visit to this temple. The Devalaya complex is dedicated to Sri Sringeri Jagadguru Mahasamsthanam. Sri Sharada Peetham Sringeri during  the construction stage the Moola Yantras for all these Devalaya prathistapana like Bhupratha Sri Chakram, and the main deity of the Mutt Sri Sharadamba and Sri Adi Shankaracharya were brought from Sringeri with the Blessings of His Holiness Sri . Jagadguru Sankaracharya of Sringeri peetham Sri Sri Sri Bharathi Teertha Maha Swamy Varu and hecne all the procedures of Pooja Vidhanams are followed in line with Sri Sringeri Sharadapeetham, Sringeri.
Nitya Pujas
Veda Parayana, Sankalpam, Abhishekam to all the deities throughout the year
Weekly Special Pujas
Monday: Sri Umamaheswara Swamy, Tuesday: Sri Valli devasena Subrahmanya Swamy
Wednesday: Sri Vijaya Ganapathi, Friday: Sri Sharadamba Saturday: Sri Abhaya Anjaneya Swamy Poojas to Navagrahas on all days. Rahu Kethu pooja on Tuesday & Sunday.
Monthly Programmes
Sankata-Hara-Chathurthi Ganapathi Homam on specific day of the month
Pradosha pooja to Sri Uma Maheswara Swamy
Navavarna pooja to Sri Sharadamba on full moon day
Sani Thrayodasi pooja to Sri Saneeswara
Annual Programmes
Anniversary celebrations including Kumbabhishekam
Ratha Yatra: Ratha yathra will be performed on special occasions and Fridays.
Maha Shivaratri: Laksha Bilwarchana to Umamaheswara swamy, Jwala Thoranam, Mahajyothirlingarchana.
Vasanta Panchami:  Sri Sharadamba, Saraswathi Homam and Abhishekam to Sri Chakram with Honey.
Ganapathi Navarathrulu: Nine days with different alankarams to Ganapathi.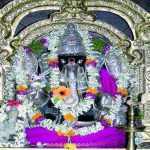 Dassera/Sharannavaratri/Sharada Navarathrulu:Mahabhishekam to Moolavirat' Sri Sharadamba followed by Nine days of Special Alankarams to Sri Sharadamba , Bala pooja and Suvasini pooja . Including Chandi Homam, Satha Chandi Homam.
KARTHIKA MASA POOJA: Daily Mahalingarchana, Abhishekam to Lord Uma Maheswara Swamy.
      Homams: Ganapathi Homam , Chandi Homam, Sathachandi Homam,  Navagraha Homam Mrthunjaya       Homam,  Saraswathi Homam, Rudra Homam, and Ayushya Homams are performed at  auspicious muhurtams in our calender year.
     Special Programmes
Veda Sabha : Veda Ghosha from Rugveda, Samaveda,Yejurveda, and Adharvana veda.
Anna Danam : Once in a month and on all  festival days.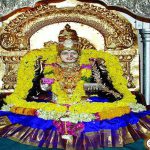 Kalyanotsavalu : Sivaparvathi kalyanam, Subrahmanya-valli-Devasena kalyanam, and Seetharama kalyanam (Sri Ramanavami) are also performed very traditionally on a grand scale .
Sri Subrahmanya Navaratrulu : Is celebrated for about nine days which concludes on  Subrahmanya Shasti.
Pravachanams  Eminent Vedic scholars are invited on all important festivals during which devotees participate in large numbers to hear the discourses of these seers .
Goshala : A black cow with its two calves are there in the Gaushala in the Temple premises for Govu  pooja and they are also used for Gruhapravesas during house warming ceremonies .
For Further details regarding puja seva events contact Manager or Dhramadhikari Contact Persons
Sri K.Ranganadh (Pandarinadh), 85, Kalyan Gardens,Sainikpuri, Phone: +91- 040- 27116298,9394566676