Taj Mahal Hotel – Malkajgiri, Above ICICI Branch
  7 Decades of Excellence in food Industry spread over Three Generations!
People Behind the Taj Mahal Group Successful Journey!!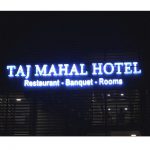 The year 1947 is a red lettered day in the history of the Taj Mahal Group of hotels as it was in this year that a visionary Sri. Belupu Babu Rao who hails from a humble agricultural family in Belupu, Udipi district of Karnataka started his journey in food business.  At a tender age of 12 he decided to take up a job as cultivation was not sufficient to meet the family needs, It was around the time when India was on the verge of getting Independence and job opportunities were almost scanty but determined to earn a livelihood the founding father of today's flagship Taj Mahal Group was initially absorbed as a Trainee cook by his maternal uncle Sri Srinivas Hebbar who owned Modern Hindu Café in Mumbai. After a brief stint in his uncle's hotel he was given the task of managing Modern Café in secunderabad by his uncle where he met Sri Ananda Rao they were later Joined by B. Sunder Rao the founder's brother and this trio in the later years  created history by starting joint ventures in food business in various prime locations of twin cities on popular public demand.  For many decades Taj Mahal established a bench mark, a strong brand image and numero uno status with  strong passion for quality and taste which no vegetarian Restaurant in Hyderabad can ever think of surpassing. Thus with concerted team efforts, satisfying customers with quality Tiffins and traditional vegetarian delicacies at affordable prices the Taj Mahal hotel became a household name especially for Middle and higher income group families who started frequenting this popular joint from the time of its inception.
The Taj Mahal Group Of Hotels now in Malkajgiri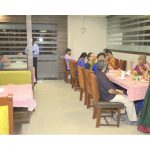 The unique feature of the Taj Mahal group and the core reason for its success story lies in the management although three generations have passed the ethical standards of hygiene and the respect they command from their long time customers is their major secret of success. "We are committed to provide quality food and sensing the demand from our customers we were the early players to introduce fast foods like chats, and North Indian food and we are the best in Multi cuisine dishes" says B. Praveen Rao the third generation entrepreneur who is currently focusing in building their latest venture in Malkajgiri he is well supported by his father Sri. Hari Rao who devotes some time in observing the operations.
Taj Mahal A Complete Facility for All Occasions
To ensure proper ambience to its customers Taj Mahal has taken a full fledged facility where at a time 150 people can dine at a time in the Non- AC Restaurant while Tripthi the AC Restaurant can accommodate 100 persons at a go. Keeping in view the growing demand for Banquet halls for weddings, Receptions, Birthday parties and other occasions two Banquet halls namely Pavana & Prerana have been launched to cater to gatherings from a minimum of 70 members to 350 members. Indeed The Taj Mahal Hotel is a great destination if you are looking for mouth watering quality Multicuisine food and excellent hospitality.