Sri Venkateshwara Swamy temple: Mangapuram HB Colony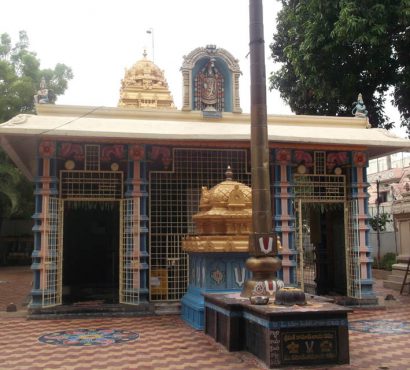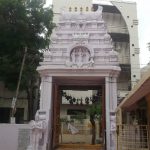 Om namo narayanaya! Om namo venkatesaya!
Religious Institutions have a immense importance in our sociological framework as they are the major source of social control and creating a harmony in society. Temples have acquired unique sanctity in our religious practices. The shastras, puranas, sthala mahatyams and alwar hymns equivocally declare that, in the present kali yuga, one can attain mukti or Moksha, only by worshipping venkata Nayaka or Sri venkateshwara through service and devotion.
Historically from time to time some god sent messengers were instrumental in constructing temples in a similar way Sri. Mocharla Krishna Murthy belonging to a family who were ardent devotees of the lord had a daughter who in her dream saw the Lord blessing her to start a temple and immediately their family installed the idol of Prassana Venkateswara Swamy and Sri. Chakravarthula Sita Rama Charyulu was the first priest who performed the daily rituals to the lord for more than two decades.
Gradually a local devotees formed a committee and named it as Srinivasa seva Samithi and raised funds for expanding space for the temple and it is the only temple which has a huge idol of Kalyana Venkateswara Swamy in the same premises Sri. Chakravarthula Rama Charyulu is the priest in this temple.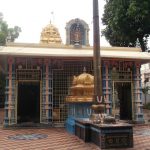 Sri Venkateshwara swamy temple located at Mangapuram colony, H.B.Colony, Moulali. It was constructed and opened for public darshan on 24th December 1974, Srinivas perumal , Prasanna Anjaneya swamy , Padmavathi , lakshmi Devi, and Goda goddesses idols are present inside the temple . In the year 2002 , with the divine blessings of Lord venkateshwara swamy, devotees mobilized funds and constructed Padmavathi kalyana mandapam.
Special Days in the Temple
The sanctum of lord venkateshwara houses the awe-inspiring seven-feet idol of lord which attracts devotees through out the year special pujas and sevas are performed the chief Priest Sri Rama Acharyulu. On every Friday, Ekadasi, & pournami special prayers and sevas are conducted by archakas who decorate the idols with colorful floral decorations to the deities in the temple. Brahmotsavam and Dhanurmasam are major festivals in the temple which has its Traditions based on Sri Vaishnava Sampradayam who are a sect possessing knowledge and practices realted to worshipping the lord right from the vedic period. an ancient sect hence all Sri Vaishnava traditional practices are adhered with absolute perfection. From the year 1989 Under the aegis of Endowments Department brahmotsavams are organized in a grand way which are events which no family misses at this temple.
ADDRESS: SRI VENKATESHWARA SWAMY TEMPLE ,MANGAPURAM COLONY, MOULA-ALI,
HYDERABAD-500040