Sri Sahastra Lingeswaraswamy Devalayam – Kamalanagar
Sri Sahastra Lingeswaraswamy Devalayam  – Kamalanagar TSIIC Colony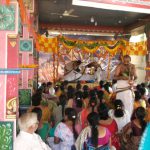 The Word Sahastram literally means one thousand in telugu  or Sanskrit this figure is of utmost significance in hindu mythology. As every god  according to our sacred texts has more than thousand names by chanting those names if  they are worshipped by the devotees is the best way to attain divinity.  Fifty metres before we reach ECIL cross roads towards the left side exactly opposite is a two decade old temple known as Sahastralingeswara Swamy Temple the unique feature of the temple is that the Lingam which represents Lord shiva is made out of 1000 identical shaped lingas which are embedded to form a beautiful lingam which was specially designed at Ahobilam,  Nandyal in Andhra Pradesh.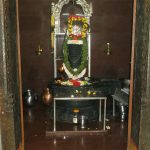 On 18-3-1996 morning at  a auspicious muhurat 10: 29 AM his Holiness Sri Sri Sri jagadguru Hampivirupaksha Vidyaranya Mahapiteswara Narasimha Bharathi SwamyJi did the Vigraha Prathistha (Idol Installation) amidst vedic rituals from then on the temple was open for public darshan and it is a very famous temple not only because it is situated on the main road  but also though the temple is located in a small piece of land it has five other prominent deities who are worshipped with equal fervor by one and all who pay a visit to this temple namely Sri Lalitha Ammavaru, Sri Abhaya Anjaneya Swamy, Sri Ganapathi, Sri Subramanyeswara Swamy  and Navagrahas.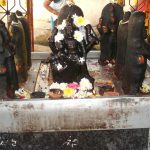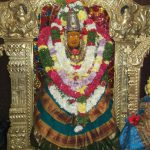 Sri Suresh Sharma is the chief preist in this temple who is assisted by a team of four other preists Sri Dilip Sharma, Sri Shiva Shankar, Sri Shankar and Sri G. Narsing Rao is the Chairman of this temple and the temple committee has a active body of members who plan and organize all the events in a ritualistic manner throughout the year. All festivals in the telugu calender and important months in the year like Karthika Masam and Shravana Masam are the months during which devotees in huge numbers visit the temple to seek the blessing of all the deities who well decorated  attached below is the image of the sacred Shiva Kalyanam that is being performed in the temple in which lot of devotees took part.