Sri Durga Bhavani Alayam – Hanumanpet
   Sri Durga Bhavani Alayam – Hanumanpet Road No-6
Founder Trustee : Sri Kaveti Bhargava Ram Land Donor : Sri. Kripal Singh
Karthyayaini, Mahamaye,Gadga bana dhaurdhare,Gadga dharinee chandi,Sri Durga Devi namosthuthe!!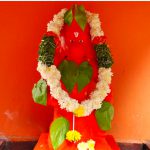 Hanumanpet in  Malkajgiri is a colony very close to the popular hill (Addagutta) upon till last three decades  was  a rocky area and near to the place where this  temple currently exists  according to the residents who were residing  in the locality used to worship a rock by naming it Yellama devatha. Gradual developmental works  have been initiated by the prominent elders in the colony and   today this   is a prominent  Hindu temple dedicated to the goddess Bhavani. It is because of three individuals  Sri K.Bhargavaram a retired railway employee who is the founder Trustee who with his single minded selfless devotion and belief took up the onus of building the temple and his determination was well supported by Sri Kripal singh who donated a piece of land for the construction of the temple. Sri Y. Rameshwho owns a industry and resides in the same colony extended donation for the development of temple and contributed resources for the construction of Dwaja Sthambam and other resources for beautification of the temple.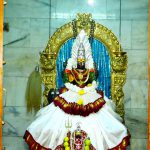 The Temple has a well decorated durga Devi idol which is the principle deity and the temple also has idols of Sri Anjaneya Swamy, Navagrahas, Sri Vinayaka and Sri Subramanya swamy. Most of the families start their daily chores only after paying a visit to this powerful temple. According to head preist  Sri. B.Radha Krishna Murthy and Sri Uma Mahesh some of the devotees  who were facing severe problems in their personal life due to childlessness and others who were undergoing severe turmoil submitted their woes by offering prayers on a regular basis and the goddess blessed the and many such miracles have happened hence lot of families believe that  the mother goddess can change and protect them towards prosperity.
All the important Hindu festivals in the Telugu calendar are celebrated in a very pious manner during which scores of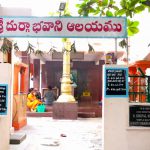 people in the locality pay visit to this temple.  Prominent festivals include Dasara, Sreerama Navami, Ugadi, Mahasivaratri, karthika Masam and Anna santhrapana and devotional concerts including Bhajans are major activities which attract people of all walks of life to the temple.  Laltha Sahasthranama Parayanam, Rudraabhishekam, and special Puja's  to Durgamata are done on a regular basis by the preists in the temple. Overall the temple remains to be a embodiment  of unity and collective effort of various family who have great unity and mutual respect towards each other which is praise worthy aspect of this colony which  every other colony needs to emulate.
For further Details regarding special activities contact Temple Management : 9948016418, 9951240917