Sri Chamundeswari Devalayam -Shankapuri, Kapra
 SHRI CHAMUNDESHWARI ( CHOUDAMMA) DEVALAYAM – Shankpuri, KAPRA
Chowdamma Devi  is the village goddess worshipped by people in and Kapra muncipality for more than three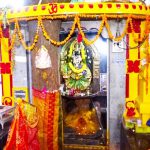 centuries which is in the form of a Anthill under a Neem tree in the location which is today visited by many devotees in Shankpuri, near ECIL which is named as Chamundeswari Devalyam.  According to the temple authorities when this colony was formed  this piece of land was earmarked for a place of worship and according to Sri.P. Subramanyam the president of the temple "Initially since lot of devotees from far off places used to come and   worship this famous Chowdamma goddess who is powerful  which has been in existence from olden days we thought of developing the temple but initially faced lot of resistance to take up developmental work due to lack of cooperation among the local residents" as people had varied opinions about how to go in the process of the temple development and to break the jinx the temple core committee approached his holiness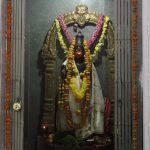 Sri Dharmapuri Thapovana Peetadipathi Sadguru Paramapujya Sri Sri Sri Sachindannanda Saraswathi  of Anubandana Samsthan who on 5-12-2012 performed vedic rituals and did the vigraha prathistapana (idol installation) of  Sri Bhavani Shankara and Sri Raja Rajeswari  on the two sides of the Chamundeswari  temple from then the temple has witnessed a steady increase in the number of devotees frequenting this temple.
According to many devotees this is a place where  the goddess chamundi worshiped through different names is very powerful and fulfills the wishes of all the devotees if worshiped whole heartedly. As years passed by many deities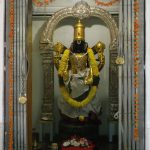 have been added to make the temple more attractive like this is one of the rarest temple which has both Shiva and  Keshavas as  there is a temple of Kalyana Venkateswara Swamy also many voluntary donors have come forward to contribute for the idol installation and various activites that were initiated to give a complete facelift to the temple.  Lord Vinayaka, Santhana Gopala Swamy , Sri Subramanyeswara Swamy, Navagrahas, and a 23 feet Abhaya Anjaneya Swamy idols in the entrance are the major deities who welcome all the visitors to the temple . Sri Nagabotla Srikant is the head priest who takes care of all the daily rituals in the temple.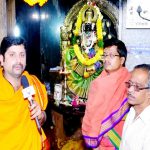 All the festivals and important auspicious days in the telugu calendar are observed with absolute sanctity and special activities like Annadanam and special pujas are perfomed participated by devotees with great religious fervor on all the days throughout the year.  A must visit temple by visiting which one can attain divine blessings of  various gods sending positive vibes to all the devotees who become altered souls which is the power that is intrinsic to this shrine.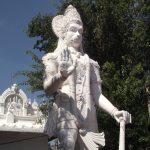 For Special Sevas and other information related to the Temple devotees can contact
Chairman : K.Shankar Rao, President  Sri. P.Subramanyam Mob (9346783893),  Secretary Sri. Rangadham, Treasurer N. Shailaja Aparna