Saibaba Temple – Saibaba Officers Colony
Sai Baba Temple-Officer's colony Sainikpuri.
OM SAI SRI SAI JAYA JAYA SAI !!!
Sai Baba temple located on the hi tension road and near Sainikpuri is constructed buying  a plot purely by the contributions of the residents of Sai Baba officer's colony Welfare Association as they felt there should be a Sai Baba temple in their colony .The Idol of the Lord was donated by captain U. Seshaiah garu.
The idol Installation of Sri Shirdi Sai Baba took place in the year 1996 and the temple is inaugurated on 15-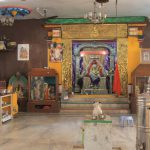 06-1997. Every year Brahmotsavams (as per telugu calendar) are carried on a grand scale for three days. Dhuni Prathishta was done on 12-05-2007. The rituals conducted here on every thursday include- Pallaki Seva, Anna prasada Vitharana  for poor and needy . Males and females can take part in and carry the pallaki of Shri Sai Baba. The temple also has other deities  Sri Ganapthi  and Dattatreya Swamy  who are worshiped by the devotees. During the Dasara festival the temple trust created a artificial Samadhi of Sri Saibaba bedecked with rose flowers on the exact day when Sri Sai Baba went into Samadhi. Sri Venumadhava charyulu and Ranga Charyulu are the priests who carry out the daily rituals in the temple.
T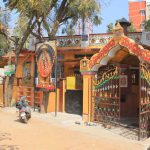 he temple Trust plans all the activities for the calendar year including development of the temple during their Annual General Body Meeting and in the last two decades the temple is visited in large numbers by families residing in the locality daily.
Some Important festivals celebrated in this temple are Sri Rama Navami, Dasara, Vinayaka Chavithi, Guru Pournami, Karthika Masam, Maha Sivaratri  and Brahmotasavalu.
For further details you can contact: Sunder Babu Naidu- 9866527032 or CNVG Swampy 9440151048.