Pets Administered Anti Rabies Vaccine By Malkajgiri Veterinary Hospital
Many owners of pet dogs visited the Malkajgiri Veterinary Hospital as free anti rabies vaccine was administered on Thursday as the veterinary specialists throughout the world observe the day dedicated to arresting those diseases that are transmitted to human beings through pet animals.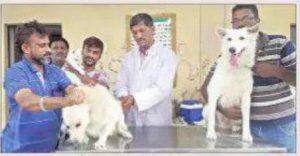 Dr. Ramesh a veterinary specialist along with his team educated the pet owners on special precautions that need to be taken with regards to pet animals especially dogs. More than 120 pet owners turned up to the hospital to know the special info related to the day.