Happenings Know Your Locality Play School
Peppa Pig Fun Camp – West Maredpally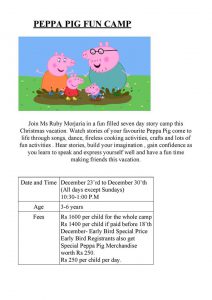 Venue: Books n More, Library and Activity Centre, #292,Street No 2,West Marredpally, Secunderabad 500026
Date and Time: December 23'rd to December 30'Th. (All days except Sundays), 10:30-1:00 P.M
Fees: Rs 1600 per child for the whole camp, Rs 1400 per child if paid before 18'th December- Early Bird Special Price, Early Bird Registrants also get Special Peppa Pig Merchandise worth Rs 250 per child per day.
Please note: This Event is for the kids in the age group of: 3-6 years
Join Ms Ruby Morjaria in a fun filled seven day story camp this Christmas vacation. Watch stories of your favourite Peppa Pig come to life through songs, dance, fireless cooking activities, crafts and lots of fun activities . Hear stories, build your imagination , gain confidence as you learn to speak and express yourself well and have a fun time making friends this vacation.