Business Profiles Education Play School
Pebbles Kids Corner – Eshwaripuri, Sainikpuri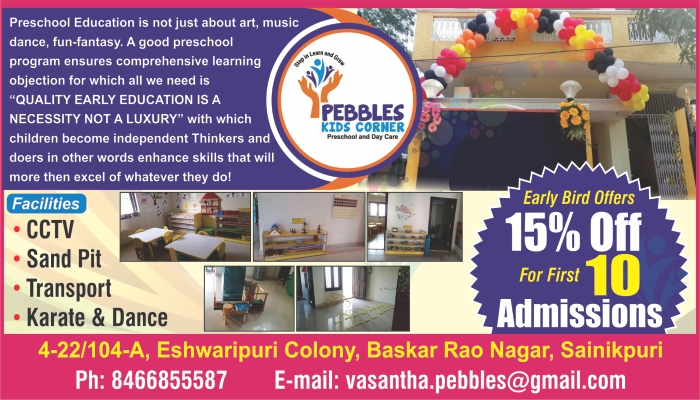 Preschool and Day Care!!
The Best in Play Group, Nursery & Day Care
"Quality Early Education is a necessity and not a Luxury  anymore"  with this philosophy  as the vision for shaping the young minds Pebbles Kids corner ensures  comprehensive  learning  which will enable the children become independent thinkers.  Not only Education but focus is also on the recreational needs of the child to encourage competitiveness right from an early age. Pebbles Kids has excellent infrastructure with CCTV surveillance, qualified teachers and last but not the least Transport facility to ensure safety  of wards. The institution announces  admissions for the next academic year and the first ten admissions will get flat 15% off in the Fees as part of the new year offer
Pebbles Kids Corner has more than 1000 centers in 340 cities across india where the curriculum is uniform
Special Features
CCTV, Sand Pit, Transport, Karate & Dance, personal Attention
Note: Tuitions are offered for 5th to 10th standard students both in CBSE and SSC streams.
For Admissions please contact 8466855587