Lalitha Sahastranama Parayanam In Sri Sarada Chandra Mouliswaralayam
Devotion knows no bounds and this is what a group of women around 182 have proven as they are heading towards a record breaking feat if you are wondering what is the record they are about to achieve these devoted group have started a devotional mission to chant one crore times the sacred Lalitha Sahasthra nama Parayanam which is a rare feat and the group together have so far reached 72 lakh milestone which was started in June 30th of 2017.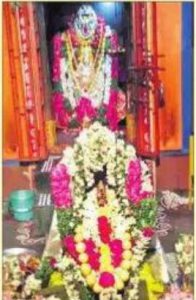 This unique feat is highly impossible unless you have the divine blessings. Sri Sarada Chandramouliswaralayam is one of the oldest temples located in Geethanagar Malkajgiri promoting Devotional and classical activities along with Sri Ayyappa Swamy Deeksha special prayers are held throughout the year and to various deities for the well being of entire society a must visit temple where puja seva is performed in a traditional and ritualistic manner by well-learned priests who are a part of the temple Management committee.