Happenings Health Care Know Your Locality Services
Akella Foundation – Free Eye Camp
Akella Foundation a Non-Profit Organization in association with Solis Eye Care Hospitals (ECIL) is conducting a free Eye Camp on the December 2nd 2017 From 10:00 AM To 2:00 PM  near  Sri Vasavi Kanyaka  Parameswari Devi Temple,  near Raghavendra theatre, Narasimha Reddy Nagar, Old Malkajgiri. Noted  film Director Sri. Relangi Narasimha Rao has consented to be the chief guest  for the event.
The following Tests will be Done in the Camp: Auto- Refractmetry, Refraction Test will be done by Optometrist, Distance and Near Vision Test, Colour Vision Test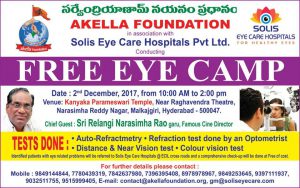 Note: Patients Diagnosed with Eye related problems will be referred  to Solis Eye Care Hospitals for a comprehensive check-up which will be done free of cost.
For further details regarding the camp please contact : 9849144844, 7780439319, 7842637980, 7396395408, E-mail: contact@akellafoundation.org, gm@soliseyecare.com